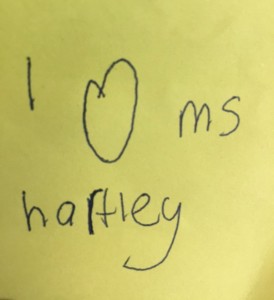 I had one of those days but I still feel positive about it.  It has been over a year since I last had to teach all five lessons in a day so I was a little wary of the load before me as I arrived at school and felt a little under-prepared for my Year 9 Geography class after they achieved more than I expected yesterday.  I arrived at school at my usual 8am, just 20 minutes before I had a meeting, so after checking email and other notices I opened the PowerPoint that was listed on the program as what I should be teaching Year 9 today.  It was a horrendous PowerPoint of four slides: a title, a map and two covered in text.  I quickly spread the text over a few extra slides and then searched for images and interesting tid-bits on the Internet to accompany the slides.  I was about half way through this exercise when I had to go to the meeting.
Meeting completed, Home Room done and then Period 1 Year 11 Society and Culture where we went through the Fundamental and Additional Concepts, followed by Period 2 Business Studies where students looked at an airline/tourism case study regarding goods and services and then examined Domino's Pizza Operations Report from their 2013 Annual Report.  All this went without a hitch.
At recess I skipped returning to my staff room so I could have some time to set-up for my first proper Geography lesson with Year 7 and steal some time to finish the PowerPoint…ambitious for a twenty minute break.  Even more unlikely when a colleague grabs you for a conversation en route.  Absolutely impossible when you arrive at the Year 7 classroom and realise you left your computer cords in your regular classroom.  A quick trot back and forth and it was almost time for the students to arrive.  Two of the other Year 7 teachers arrived and there was talk of classroom swaps.  I bowed out graciously and continued my set-up.
The Year 7s were quite good and 27 of 30 students successfully copied the worksheet from the original into their own newly established Geography folders in Google Drive.  The other three were unsuccessful due to internet issues.  However, being Year 7 they had loads of questions and I ran late to Year 9 Geography back in my regular classroom.
When I arrived the Year 9s were making a lot of noise outside the class.  When I let them in we had a talk about appropriate behaviour and my eyes scanned the room detecting the lock box as opened with the remote for the IWB missing.  I kept looking and some of the boys said a teacher had told them to tell me she'd put it on…something.  They obviously hadn't heard her clearly but couldn't be bothered to clarify.  The remote couldn't be found so I sent a boy to the teacher who was then off class.  She said another teacher who she named may have taken it.  I sent a kid to that teacher and thankfully he came back with it, without a message to accompany it.  Right, now I could show the PowerPoint, half improved.  But no, in the meantime my computer had encountered an error, had restarted and I couldn't find a recoverable file (stupid me hadn't saved the half-improved version) so in a bind I ran with the boring original.  I surprised myself with how much I knew about reading a map and making it interesting for the students but then we hit the text.  Groans.  I handed out post-it notes for students who finished first to write ways people could reduce water usage and just single notes as the slower writers finished, to fill the gap of catch-up as students finished writing.  I rarely use PowerPoint and this is one of the reasons why.  More groans with the second slide of text.  Four boys had passively resisted working and just didn't write or type most of the material so were kept in to finish at lunch.  One of those four had "I love Ms Hartley" on a post-it note on his forehead, his friend had one with "Hit Me" written on it but just on his desk (at least my name was spelt correctly).  I'm guessing that originally they were put on students' backs.  Mr Forehead Guy now has to see his Dean about it since I passed it up the line due to the personal nature of it.  The Deans are really good at dealing with the boys who are pushing at boundaries like this.
Despite this boring text writing lesson and the resistance to work from a handful, I think it went well.  I've worked out I don't like teaching Geography because I'm not passionate about it but also because the resources in programs at both this school and my last one are incredibly boring and I become tired of reinventing the wheel every time I'm placed on Geography.  I was ashamed today to put up such a boring PowerPoint and the boringness was reflected in the boys' behaviour.  So I can do battle with the resources before going to class which generally takes two hours for every hour of teaching it or I can just battle disengaged students.  I prefer to do the former normally.  The four boys I kept in were quite friendly and understood that it was caused by their own actions (or lack thereof) and didn't hold a grudge, or even some begrudging respect for recognising their resistance to work.
After a short lunch last period was Year 12 Society and Culture where one of the students conducted a focus group for her PIP.  She hadn't thought through seating arrangements so it took her a while to work that out and then the class was argumentative and loud but she handled it well.  I stayed out of the whole thing to maintain the integrity of it being her focus group.
At the end of the school day I had to chase down some printing I lost the previous day, wrote up the demerits and merits for the day and then did that PowerPoint even though I will probably never use it, simply because I had been half way there and the websites I had used were listed in my History.  I left school at 5.30pm, half an hour after my self-imposed time limit for this year, and last to leave in my section of the school, but pleased that I had managed the day calmly and reasonably successfully despite the hurdles and hiccups along the way.